Motown Mademoiselle Arts is a monthly interview with Morgantown area artists who identify as women
Introduction: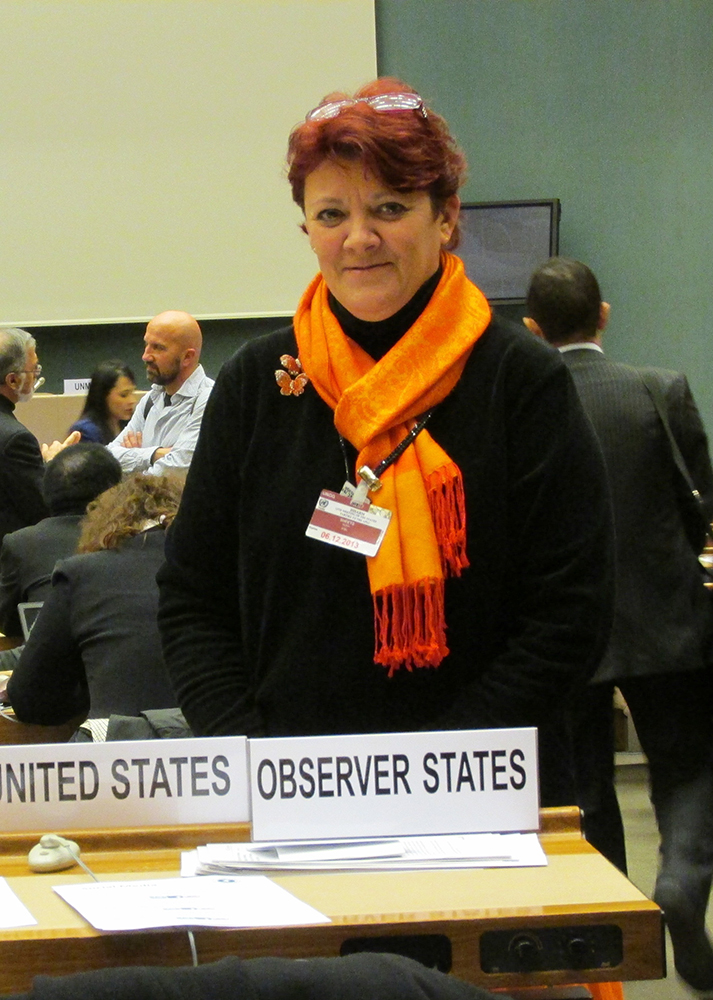 Nora Sheets, an artist and art educator with Morgantown's St. Francis Central Catholic School, shares with Zackquill about the upcoming exhibit she and her students organized, We Are All Connected: A Psalm Art Exhibit, at Monongalia Art Center, February 10-March 4, showing various media of artwork by the students calling attention to the interconnectedness of life and the need to abolish land mines and cluster munitions. She discusses the impetus for this specific exhibit, inspired by Chief Seattle, and the significance of the cause locally and globally, as well as the various artwork that will be on view including an audience interactive element. She also shares about why she likes being an artist in Morgantown, advice for aspiring artists and more…
Z: How did you end up in West Virginia?
NS: I have lived here all of my life.
Z: How did you come to be an artist and arts educator?
NS: Through encouragement of my high school art teacher and family and friends. It was something I loved to do. I find myself amazed at times that I get paid to do something I love so much!
Z: How did this exhibition come about? Why is this important for the Morgantown community?
NS: "WE ARE ALL CONNECTED," a PSALM ART EXHIBIT will be on view February 10th- March 4th, 2017 at the Monongalia Art Center. The exhibit offers a look at the interconnectedness of life and the need to abolish landmines and cluster munitions.
The theme for our art exhibit is based on Chief Seattle's quote:
"Humankind has not woven the web of life. We are but one thread within it. Whatever we do to the web, we do to ourselves. All things are bound together. All things are connected." — CHIEF SEATTLE
In other words, "What We Do to One, We Do to All…What We Do for One, We Do for All."
When we recognize that we are all connected, we begin to understand that our life touches more people than we can ever know. The question is not if we are making a difference, but rather what kind of difference are we making? We are not alone on the journey through life — we are all connected at some level — that the actions of one person can affect another person, which, in turn, affects another and yet another. With this awareness comes the realization that if what we do in life affects others, should not our actions be conducted mindfully and purposefully?
SO…what does this have to do with landmines and cluster bombs?
We can look at it two ways. When these weapons are used, they have consequences long after wars and conflicts are over. It is doubtful that the soldier that has planted a landmine in the ground 15, 20, 30, 40 years ago planned on targeting a child looking for food today. Yet it happens with all too much frequency. ACTIONS HAVE CONSEQUENCES…some we may not have intended!
Contamination from landmines, cluster munitions and other explosive remnants of war terrorizes civilians in more than half of the world's countries. Landmines and cluster bombs are a significant cause of disability in these countries. These weapons instill fear in whole communities, deepening poverty and acting as a lethal barrier to development.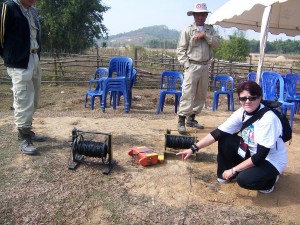 We can also see a "connectedness" in the work of the international community of people that comprise the campaigns to rid the world of these weapons. This vast global community that make up the International Campaign to Ban Landmines and Cluster Munitions, along with survivors, share strategies and work together to ensure that affected regions have the capacity to reach their goals.
We can also see the devastating effects of these weapons in countries dependent upon our environment. Chemical seepage from landmines can contaminate farm land and drinking water. It can take only two or three mines or the mere suspicion of their presence to render a patch of land unusable for farming or living. Landmines and cluster munitions makes retrieval of water, fire wood and food a venture that can have life or death consequences. Many children that are injured or killed by these weapons were simply looking for food and water. Some of the most contaminated places are Afghanistan, Cambodia, Laos, Colombia and Iraq.
Our exhibit hopes to demonstrate that we are truly connected…to each other and the environment. We see that often ONE person CAN make a difference – often a bigger difference than anyone thinks possible. That in doing good for others, whether for one human being or many, you do yourself a world of good and transform your own life and gain what one campaigner calls "the contentment of giving ".
Students will display painted shadowboxes. The boxes will be displayed on the gallery walls and connect to one another (another reference to our theme of the need to work together to make the world a better place for all). We will also have a display of "feather" art (this is connected to Native American art since we are using a Chief Seattle quote).
We will also have a canvas "weaving" that we will ask people that attend the show to weave papers into. The result being a "work in progress" that the people attending the exhibit can participate in…another way to connect to one another via an artwork in progress.
Z: How do you think the environment is for the arts in Morgantown?
NS: We find a lot of support for our efforts. Since the inception of PSALM, students have used their many gifts and talents to raise awareness about world issues that concern them. The colorful artworks by students are made to be attractive in a way that would entice viewing yet confront the observer with difficult issues, namely the remnants of war and conflicts that affect the most vulnerable of the world today.
Z: What is your favorite thing about being an artist/creative/curator in Morgantown?
NS: The receptiveness to new ideas about art and the messages it can carry.
Z: As an arts educator of K-12, any advice for young artists in the area?
NS: Yes! Get together with fellow artists and friends and think about what you want the world to look like and brainstorm ideas about how to use your gifts and talents to make your voice heard.
Z: Anything to add?
NS: PLEASE visit our exhibit! The students spend countless hours working on ways to make their own voices heard!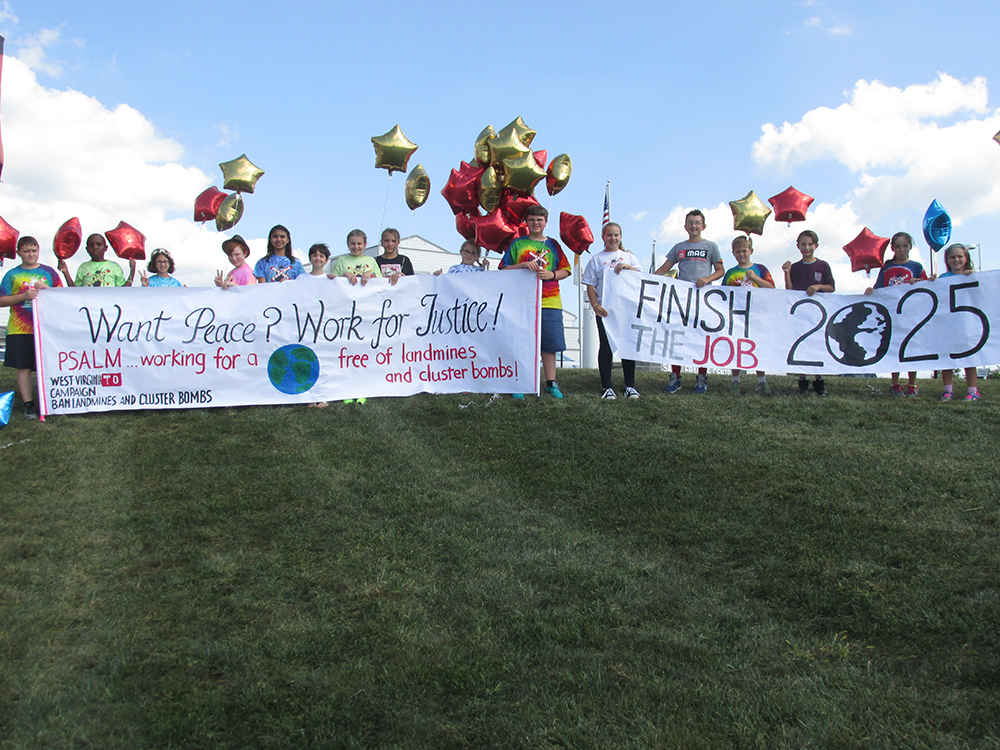 Below is info about PSALM and how it came to be:
St. Francis de Sales School "PSALM": Proud Students Against Landmines and Cluster Bombs/West Virginia Campaign to Ban Landmines and Cluster Munitions began in 1999 as an art project to educate the public about a global social justice issue. Students designed a sculpture of 500 painted shoes with facts about landmines attached. The sculpture was placed in various community locations and eventually traveled, along with the students, to Washington, D.C. to raise awareness. Mentors such as Nobel Laureate, Jody Williams, Ken Rutherford of Landmine Survivors Network and Dr. Larry Schwab of Physicians for Human Rights encouraged students in their efforts to educate others. Our motto at school is, "we are here to serve, not be served". The students were inspired to begin to work with campaigners from all over the globe for a more peaceful world for all. Thus "PSALM" was born!
Eighteen years later, PSALM students are internationally recognized members of the United States, the International Campaign to Ban Landmines and the Cluster Munition Coalition. PSALM/WVCBL are committed to educating the public about the devastation caused by landmines and cluster munitions, and recognize the indiscriminate nature of these weapons leading to the destruction of innocent life, especially children, after wartime hostilities have ceased. PSALM students have been represented at conferences in Bosnia, Kenya, Croatia, Jordan, Oslo, Norway and Colombia, Chile, Laos, Cambodia and the United Nations in Geneva. PSALM students work tirelessly to educate their peers, families and community about the effects of landmines and cluster munitions on people, especially children, the world over. The work they do shows the students that they have a voice and their actions can have a positive impact on others… an invaluable lesson in hope and perseverance. PSALM students learn how concerned individuals can impact the world.
This one photo was taken while I was representing PSALM at the United Nations in Geneva, Switzerland! I have represented them in: Kenya, Bosnia, Croatia, Jordan, Colombia, Chile, Laos and Cambodia. I also had the honor of representing the students at the formal signing of the Treaty to Ban Cluster Munitions in Oslo, Norway in the same hall where the Nobel Peace Prize is awarded each year. After traveling to Bosnia, I was so disturbed by the suffering of the children there after the war, I went back with a group of art therapists the following year to work with kids with post traumatic stress syndrome.
PSALM students have been honored internationally by the Geneva Bureau of Peace, nationally with the NCEA "Catholic Schools of Tomorrow Award", collected medical supplies for landmine victims in Nicaragua,funded 3 water wells in mine-affected regions of Cambodia, sponsored mine-detection dogs in Bosnia and helped purchase prosthetic devices for young landmine and cluster bomb victims in Bosnia and Laos; met with Vatican Ambassadors, members of the U.S. Congress, Nobel Peace Prize Laureates as well as Queen Noor and Prince Mired of Jordan; were recipients of 2 WV House of Representatives Resolutions honoring their work, were the recipients of the Morgantown Human Rights Commission "HUMAN RIGHTS AWARD", staged 6 public Art/Photo Exhibits, were included in a book with 8 Nobel Peace Prize Laureates (including Desmond Tutu), have been commended and recognized by the United States Conference of Catholic Bishops, were the subject of numerous print and televised media events and received 4 Morgantown City Proclamations for their work!
I can only imagine what they will accomplish in the future and indeed have seen the amazing impact their work has had! All of this can directly be attributed to 3 students who took an art assignment in 1999 and made it into something so much bigger! Sometimes the teacher teaches the students and sometimes the students teach the teacher!
–
"WE ARE ALL CONNECTED," a PSALM ART EXHIBIT will be on view February 10th- March 4th, 2017 at the Monongalia Art Center.
St. Francis Central Catholic School
Sally Deskins is an artist, writer and curator. Send her ideas and tips at sallydeskins@yahoo.com.