For the Monongalia Art Center's annual BARE exhibit, several paintings and sculptures are now on view celebrating the human body in the raw. The art is varied, from Jamie Lester's larger-than-life, full-of-strength female figurative sculptures, to Heimo Riedel's paranoid-inducing mixed-media installation "The Stalker," to Nicholas Romanoli's huge photographs of full-frontal muscular men, to Judy Rae's  loving embrace painting, to (Full Disclosure) the odd breast-print fish of yours truly.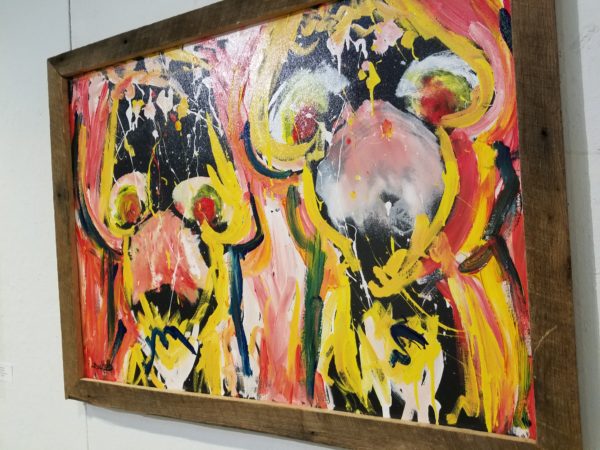 Abstraction is offered by the expressive paintings of Ben Kolb and Stephen Pavlovic.  Eddie Maier offers a subdued green and black reduction woodcut of a female form amongst an abstracted forest. D.R. Morton's duo of fantasy acrylic paintings depict white women with their faces covered by their long hair, breasts on view, on a beach and in an artist studio. Jeffrey Katrencik, too, depicts a woman with long fair, baring breasts with a blue background, the woman with a dark, almost challenging stare.  Jack Puglisi's two ink of paper present intensely drawn women posing amongst layers of different patters: circles, waves, checkers, as though the woman both is lost among and emerges from these mysterious fields.
It is definitely a provocative and an impressive group of diverse work, though the diversity of figures, aside from the few abstracted works, seems to be lacking, with a focus on the white, fit forms of female. With just two artists who are women, out of the more than twelve exhibiting, it also doesn't offer well-rounded perspective. Still it is always a joy to recognize and celebrate what is underneath when we bare all…
The upstairs exhibit, the Cabal of the Hidden, curated by the Arts Collective of West Virginia, is a large group show exploring the mystical and strange.  More than a dozen local artists have their work on view in what is a real trip through these artist's minds.
The standouts to me include Jessica R. Poole's Lucy, I'm Home, ink and digital color drawing of a young woman donning a patched over plaid skirt, ghost shirt, leather jacket, tall socks and a spider tattoo, looking down upon the viewer, in a dark atmosphere. I love the subtle feminism and the sense of humor it seems to evoke, candles lit near her socks as if she, too, is ready to flame.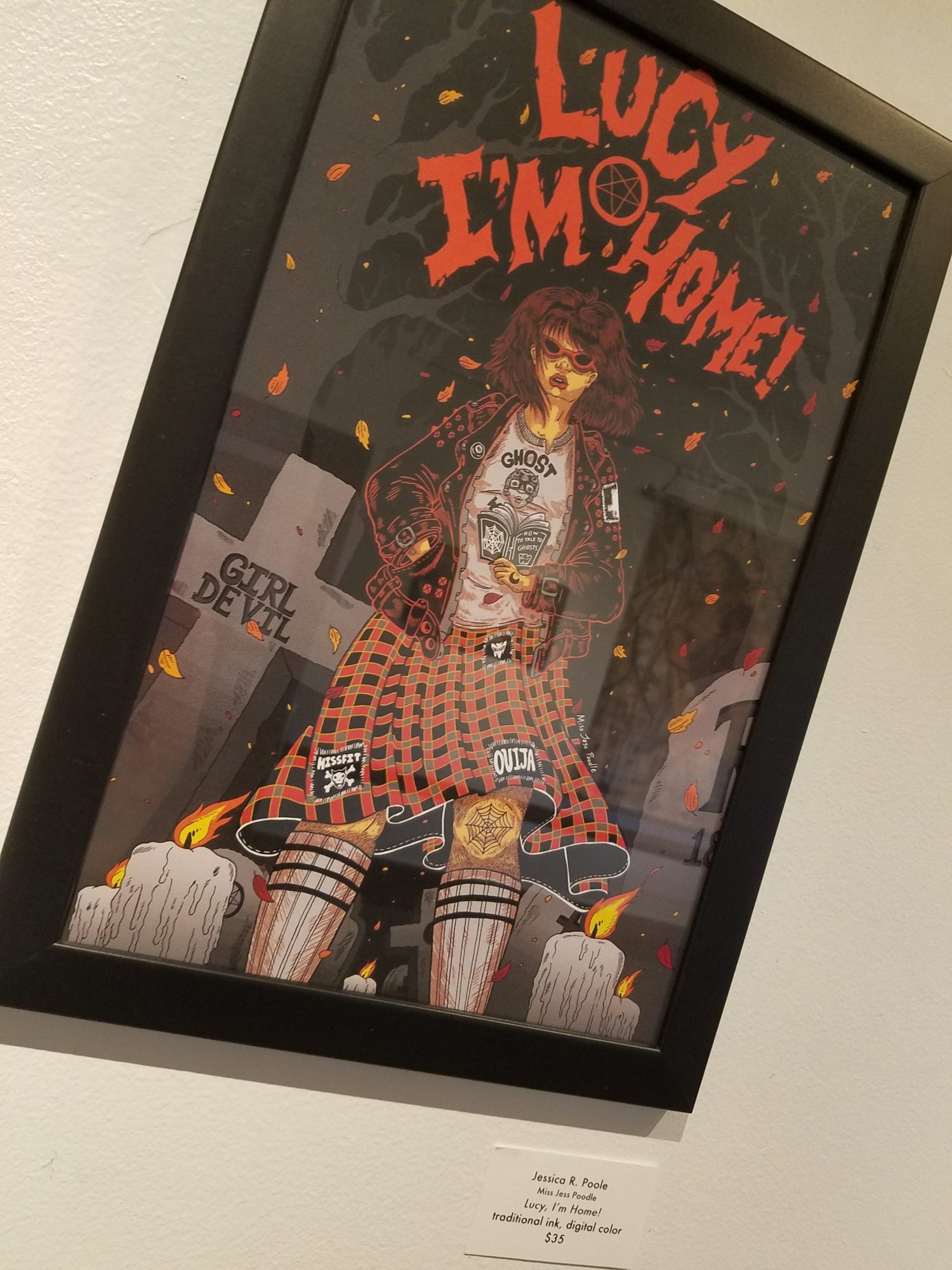 Elissa Greathouse's Twinkle, Twinkle Little Bat mixed media sculpture is a fantastic bright red rabbit head with the eyes carved out. Look inside to find a tiny set table and other house-hold knick-knacks, indicating perhaps the bat's home. The quaintness combined with the oddity is so much awesome.
I really love Jill Kelly's Who's Calling, Please?, a two-dimensional mixed media wall piece with a ouji board mounted on a wooden board with skills, a strung blanket and magazine cut-outs of hands in place to play, a Valentine and a vintage nude woman with an old-fashioned phone up to hear ear. So many different aspects at play here, perhaps it's the combination of retro with death and the afterlife that makes it so enticing.
Sharon Lyn Stackpole's Namaste, a mixed media collage and painting on canvas, emits a beautiful, intimate and sensuous vibe.
There are several more, and mostly all of them are for sale. For a pleasant mind-vacation, check it out!
Both of the exhibits are up for your peak through November 19.
http://www.monartscenter.com/archives/5506
–
Sally Deskins is a writer, curator and artist. She recently obtained an MA in art history from WVU. She edits Les Femmes Folles, a platform for women in art. She curated the exhibit Contemporary Terrain: Glass Artists from the Mountain State, at the Nutting Gallery inside the WVU Alumni Center, which runs November 14-January 28. She is excited to write about the arts in Morgantown. Send her ideas and press releases to sallydeskins@yahoo.com.