Odds are that you've seen the blue helicopter that roosts on Ruby Memorial Hospital's roof. Maybe you've seen the it take off during a football game or land while you were stuck in traffic. The Zackqill team was curious to learn more about that team- who's in that helicopter? What do they do? What does Morgantown look like from up there?
It turns out the life-flights at Ruby are overseen by HealthNet Aeromedical, a not-for-profit joint venture shared by the state's major hospital chains. A few phone calls later and we granted an interview with two members of that team, Certified Flight Registered Nurse (CFRN) Chris Schrader and Certified Flight Paramedic (CFP) Eric Stemple.
Healthnet's Base 1 overlooks the new University Town Center interchange on Interstate 79. A prefab three bedroom house serves as the team's home-away-from-home, where pilots, paramedics, and nurses can eat, sleep, and rest between calls. We sat down with Chris and Eric at their kitchen table to learn about their unique view of the town we love: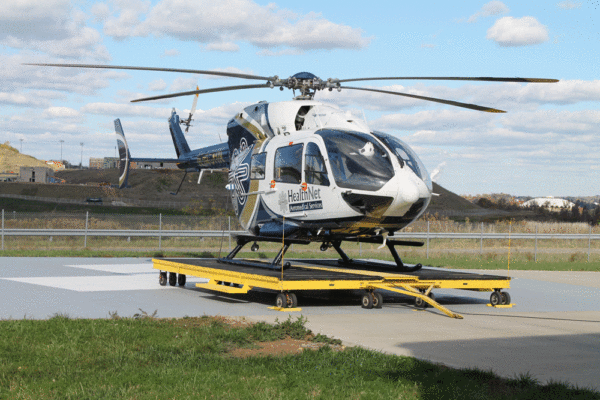 Zackquill: This is the question everyone in Morgantown wants to know: do you ever look down on the cars stuck in traffic below you and laugh at our bumper-to-bumper misfortune?
Eric: Yes. We are laughing at you. It's really great not to be stuck in traffic. I occasionally still take shifts as a ground paramedic, and getting into and out of Ruby Memorial is a pain, especially on game days. I much prefer to fly.
Sorry to joke- when we're in the air on the way to help someone, there's no joking there. But in between, the joking is part of the job. It helps us cope with the stress!
Zackquill: Eric, you're a flight paramedic, and Chris, you're a flight RN. Did you both work in these positions on the ground before doing it in the air?
Chris: Every flight has three members- a pilot, a flight paramedic, and a flight nurse. To get to that place you need at least three years of training as a paramedic in a busy community or as a trauma nurse in a busy emergency room. We had been working many years beyond that three year minimum when we applied. Then there's professional certification, the 'C' in our titles. Like other doctors that get certified in their special field, there's a national standardized test and training you have to pass before the let you do this work in a helicopter. It's a really specialized set of skills. There's a lot of groundwork to get to this place in your career, but I would say it's the most rewarding thing I've ever done.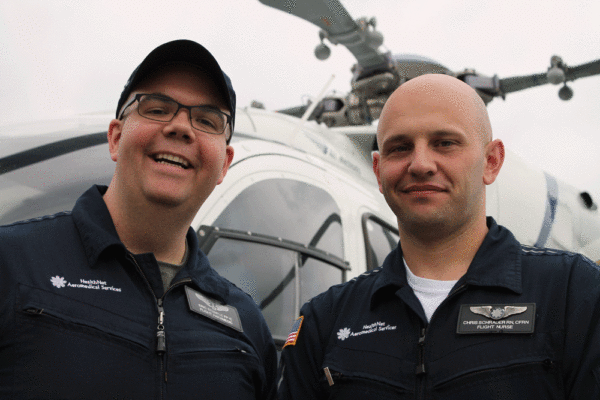 Eric: Most people wouldn't guess that communication is such a huge part of this job- but it's a big part of the training. When we take off, we're communicating with local airports to negotiate priority clearance. When we land, we're talking with local paramedics to establish care, and we're talking with patients to help them prepare for the flight. When we get to the hospital, we're negotiating clearance with the airport again while relaying information to the ER staff, keeping the patient calm, and communicating with each other to keep the patient in good care.
Chris: A big part of our job is establishing trust with your patient. Some of them have never flown before, and they're already injured or sick, and they're really scared. And the providers on scene- they take their work very seriously too. So we also have to establish trust with the paramedics or hospital staff so they feel comfortable letting their patient leave with us. We have to establish trust with everyone involved from the very first second.
Zackquill: When most folks think of life-flight work, they think of the gruesome stuff- very serious injuries and accidents with lots of blood. Is that an accurate portrayal of what your normal routine is?
Eric: In this field, we see just about anything and everything- it could be an adult, it could be a kid, it could be an elderly person. We serve from within a 150 mile radius of Morgantown, and Ruby Memorial is the only level-1 trauma center in the area. Usually, for us to take off, someone has to be extremely sick or injured. The question is usually: is there a timed urgency to the call, or is the injury so bad that a local hospital can't properly handle it. That's when they call us.
Chris: We'll take 700 calls a year. The most I've ever done is 7 in a day- and that's basically the start of your 24 hour shift to the end of your 24 hour shift. Each flight is taking off, travel, landing, establishing car, taking off again, delivering the patient, and paperwork. When you have that many calls a day, the paperwork starts to pile up.
Zackquill: In our mountainous region, it's hard to get folks the help they need fast, which is a big part of the work you both do, right?
Chris: Right- West Virginia is known for its winding, curvy roads. We can get to places in a fraction of the time it takes a ground crew. Just the other day we flew to Canaan Valley. From here, that's what, two-and-a-half hours by car? It took us 28 minutes.
Zackquill: That's incredible! The drive to Canaan Valley is so long. Next time we go skiing, we're hitching a ride with you guys! Are you both from Morgantown? What are your thoughts on living and working here?
Chris: I'm from Fairmont originally. The best way I know how to describe Morgantown is that it's the biggest little city I've ever seen. We fly to Pittsburgh, Cleveland, Columbus, Baltimore- we fly to a lot of bigger cities with skyscrapers and people everywhere. Morgantown's a small city with a lot of people, and there's lots to do, which makes it unique.
Eric: I grew up in Marlinton WV, near Snowshoe. Morgantown always seemed like such a huge place, like "oh man, you're going to 'the city'". The big city has kind of shrunk down, and it's really cool because you can get anything you need here. There's a lot of services and things here that I can't get at home. It's not overwhelming anymore.
As we chat, a buzzing goes off in the next room, and on the table, Chris and Eric's cell phones vibrate. The on-duty pilot joins us from the adjoining office. Chris exits the room to investigate the alarms. Eric grabs his helmet and explains:
Eric: Ok, looks like we're on standby. That means there's a call we may need to respond to, so we're going to get ready for takeoff.
One thing that's really interesting about this job is that they'll tell you the location of the call, but not the situation. So we get asked, "can you fly out to 'this' location" and that's all we get. We'll look at the weather and make a call yes-or-no. They won't tell us what the call is about until we are en route. That way, we won't be swayed to endanger our lives by flying into bad weather to pick up an injured child. Let's go to the hanger, we've got to prepare for take off.
The three person team of nurse, pilot, and paramedic exits the rear of the house and enters the adjacent hangar. The drizzly weather means that the aircraft are stored inside. Today there are two helicopters stored in the hangar, the larger of the two standing on a large wheeled skid. A fourth member of the team, a mechanic, is opening the hangar door and using a tractor to push the larger helicopter onto the launch pad.

Chris: That second helicopter is a spare. We've got nine bases in our network, if any of those helicopters need to be repaired or are out of commission, we have a backup ready for them.
Eric: Base 1 is a hub for the rest of the network. We can refuel here, we store extra gas here too. He points to a cooling unit against the wall. And over here, we actually carry extra blood for transfusions too. That's something most regular ambulances can't carry. But we have special training to do blood transfusions while we are in flight." He opens the unit to show three units of O negative blood, with multiple thermometers stored in the unit to ensure they are kept to temperature.
The helicopter is now pushed out on the pad. The team allows me to take photos of the helicopter, and poses for a few photos themselves. Chris opens the rear hatch of the helicopter to show where patients are loaded and unloaded.
Eric: The helicopter is like an aerial emergency room. We have a bunch of tools and resources that a normal ambulance doesn't have. We've got cameras to look down into people's airways, we've got liquid oxygen tanks built into the side of the aircraft.
Chris: We've got a collapsible stretcher too- two of them, in fact. The aircraft is designed to hold a ton of stuff for whatever emergency we encounter.
Eric: If we can make the weight work, we can hold up two patients in here. Thankfully, we haven't had to do that yet, but the whole interior of the aircraft can be redesigned to fit a second person on a stretcher if we need. The biggest patient we've moved was 600 lbs. Not even kidding.
Zackquill: In case you have to take off, what's one note you'd like to share with our readers before you go?
Chris: It's important to make sure that the ground paramedics and ER nurses get recognized for the important work they do. We know we get the press because we've got the helicopter, but they're doing the same work too, and we want to recognize them for that.
Eric: I hope everyone finds a job they love as much as we love doing what we do. The team's phones vibrate with a new text message. Ok, we gotta go. Thanks for stopping by- sorry we can't give you a ride today!