Local Research Team with Motion Capture Lab Making National Impact
At this point in 2016, most people are familiar with the motion capture technology used to animate movies in Hollywood. It brings to mind images of green screens and skin tight suits with ping pong balls fixed to the joints. One Morgantown based research team wants you to ditch the mental images of spandex suits and imagine instead white lab coats, clipboards, and research papers.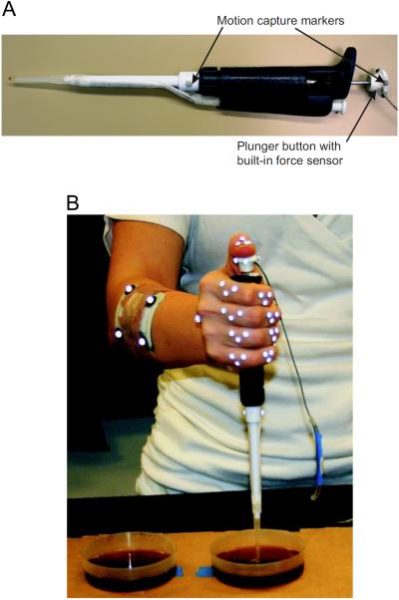 At the Motion Capture Biomechanics Laboratory, located in Morgantown's branch of the National Institute for Occupational Safety and Health (NIOSH), those images of motion capture research are not far off from reality. Among the scores of research projects being conducted in the facility, the Motion Capture Lab uses that same Hollywood technology to advance research on the mechanics of human body, with the goal of improving workplace safety.
"In Hollywood, they use motion capture technology for animation" says Dr. John Wu, lab director and team leader at the lab. "We do simulation. We can measure what you cannot see happening inside the body. You cannot directly measure joint loading; if I were to carry a load, there's no way to measure that. Engineers can put a force sensor on a structure, but you can't do that with the human body. This technology allows us to simulate and measure those loads."
The team's recent contributions to the research community have focused on the laboratory use of pipettes. Pipettes are standard lab equipment that give accurate measurements for experiments involving liquids. Held in the palm like a joystick, lab techs use their thumb to operate the device. They're a standard research tool in any contemporary research lab.
"Pipetting is used a lot in university, research, and pharmacy settings" explains Dr. Wu. "Although most pipettes are mechanical or power driven, most people have to push very hard to work the device. If you do it once or twice it's not a problem. But if a technician worker uses the tool all day long, about 80% or 90% of those technicians complain about pain in the side of their hand by their thumb. So we're trying to understand what's going on, how much load is being applied to each muscle. This technology is being used to improve the instrumentation so it doesn't cause any musculoskeletal disorders."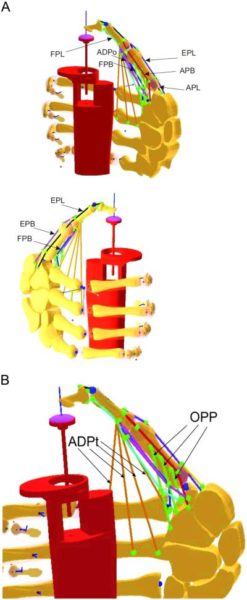 The data collected from the team's motion capture research was used to create computer simulations and mathematical reconstructions of a hand making the pipette motion. The results of the data have been published in multiple medical journals and are having an impact in research laboratories worldwide. The end goal is to improve the daily work of lab technicians, by either suggesting changes in lab procedure or redesigning the pipettes to reduce stress on the thumb.
"You mostly see this technology in movies and video games." shared Dr. Scott Breloff, who moved to Morgantown three months ago to begin his own work in the lab. "But this type of technology can be used and applied to any biomechanical question. We do musculoskeletal disorders, we do working environments, we use the same technology to look at clinical work, sporting questions, anything along the lines of aging. We can record someone's motion and apply answers to any question about human motion."
It's not often that residents of Morgantown visit the multi-story glass enclosed building at the corner of Willowdale Rd. and Chestnut Ridge Rd. The National Institute for Occupational Safety and Health has been a part of the community since 1971 and provides around 520 local jobs. As with most institutions of research, breakthroughs and studies are more likely to appear in medical journals instead of the local news. Lab Manager Erik Sinsel shared that, even though the public doesn't fully know what's going on behind the scenes at the NIOSH building, their team is excited to share their work with their neighbors. "We want the town to know that we take our work seriously as a federally funded workplace- we have a responsibility to use the tax dollars to produce world class, peer reviewed research. That's our goal- to make their workplaces safer."
"We study the fundamental mechanics of everyday life" adds Dr. Liying Zheng. "We provide the data, which informs official government recommendations, which gives businesses insights on design, which shows up in the products we buy at the store."
The members of the research team are all preparing to start new motion capture research projects in the coming months, but can't share their plans publicly yet. "Even though we're ramping up for a bunch of new studies, we don't want anyone to scoop our research" said Dr. Breloff.
To learn more about the research happening at the NIOSH branch in Morgantown, check out their official science blog, and keep up with their latest news on Facebook, Twitter, and Instagram.